COVID-19 vaccination opportunities will begin next week (5/24). To get one scheduled for your child (12 and up) please phone 541-922-6500, Monday-Friday from 8-3 pm.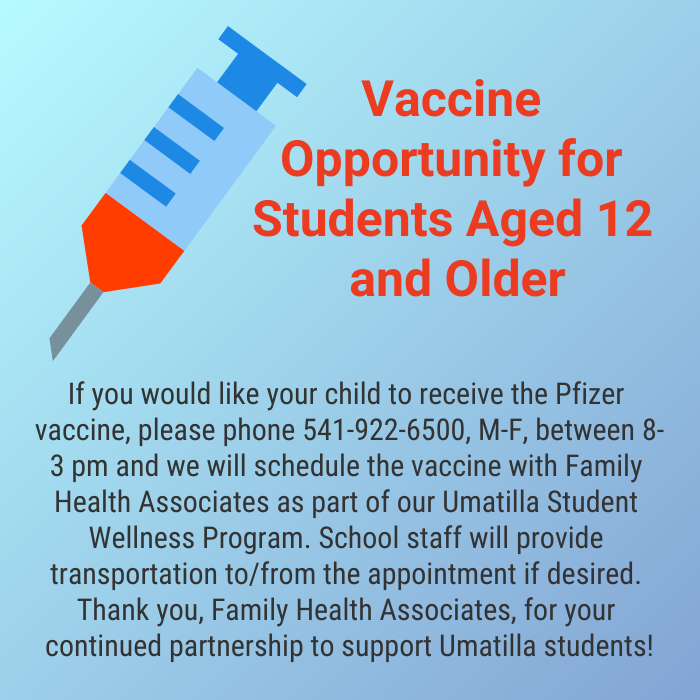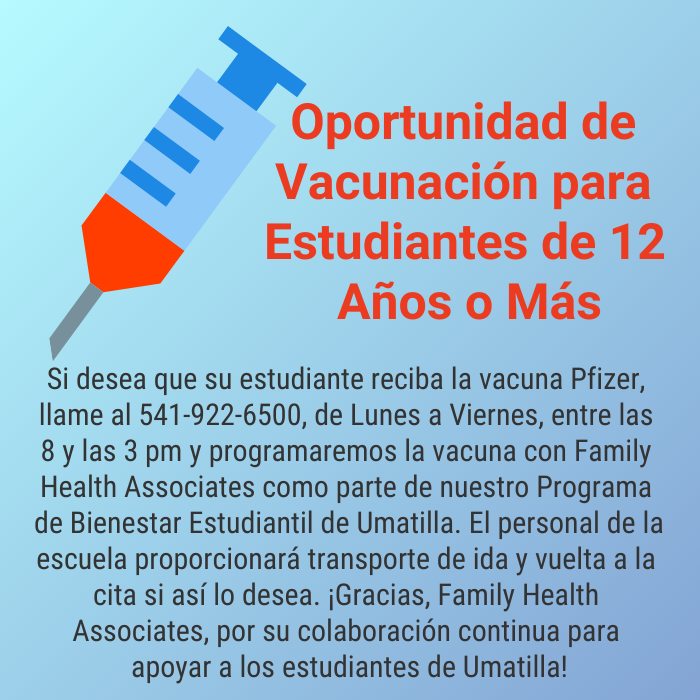 Updates about COVID-19 Positive Case Notification Process / Actualizaciones sobre el Proceso de Notificación de Casos Positivos de COVID-19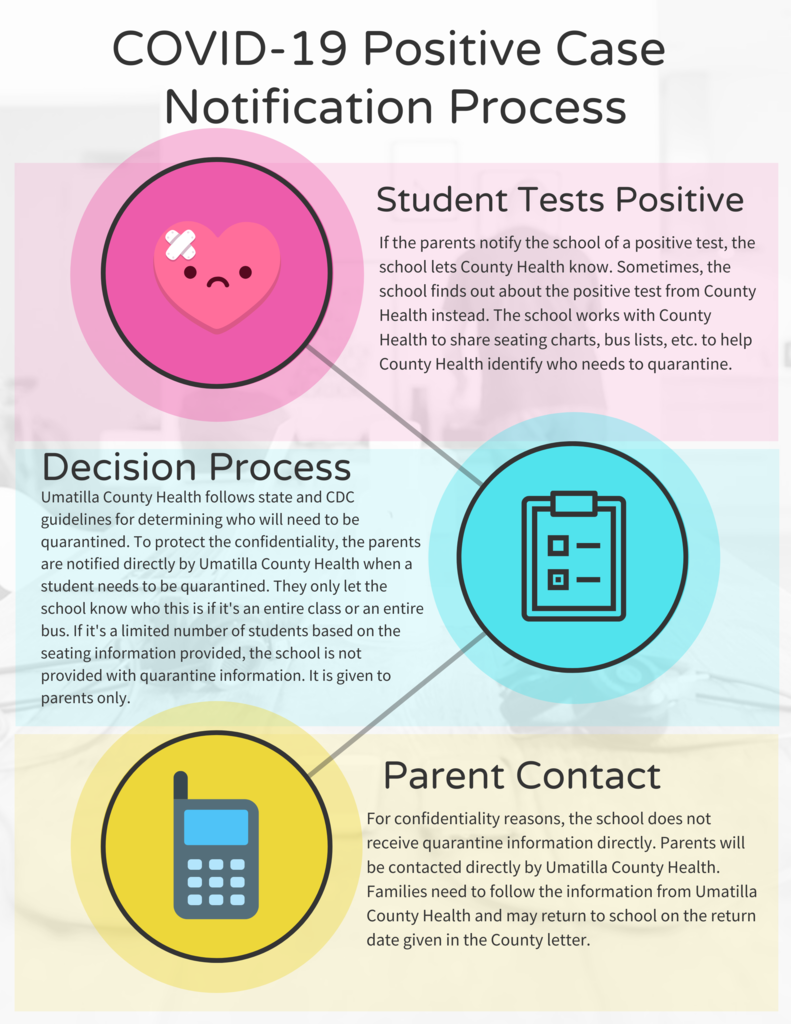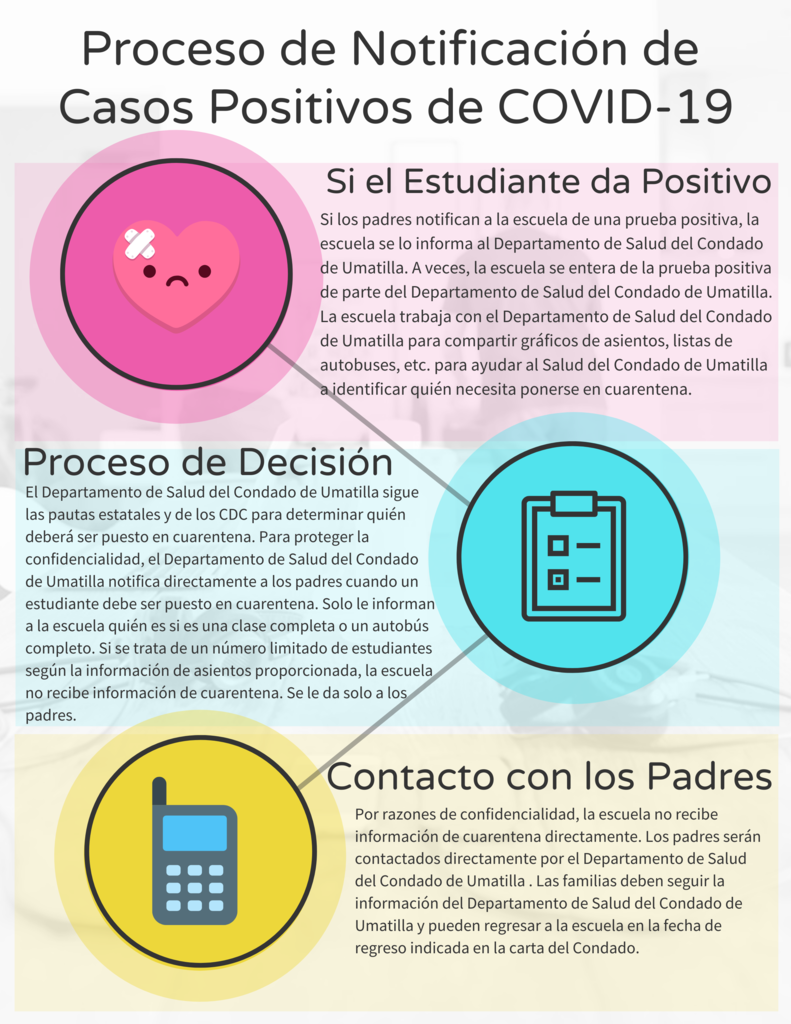 Umatilla High School will be hosting a prom. Due to Covid restrictions, the dance will be held outside on the tennis courts this Saturday, May 15th from 8-10 pm. Due to it being a dance related event, there will be loud music playing during the event. We know this may be disruptive for a couple of hours in the evening, but hope you understand the excitement we have in providing our juniors and seniors the opportunity to have a prom. Thank you for your understanding.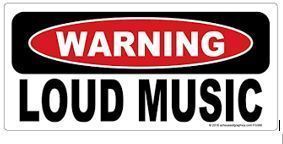 COVID-19 Positive Case Notification Process / Proceso de Notificación de Casos Positivos de COVID-19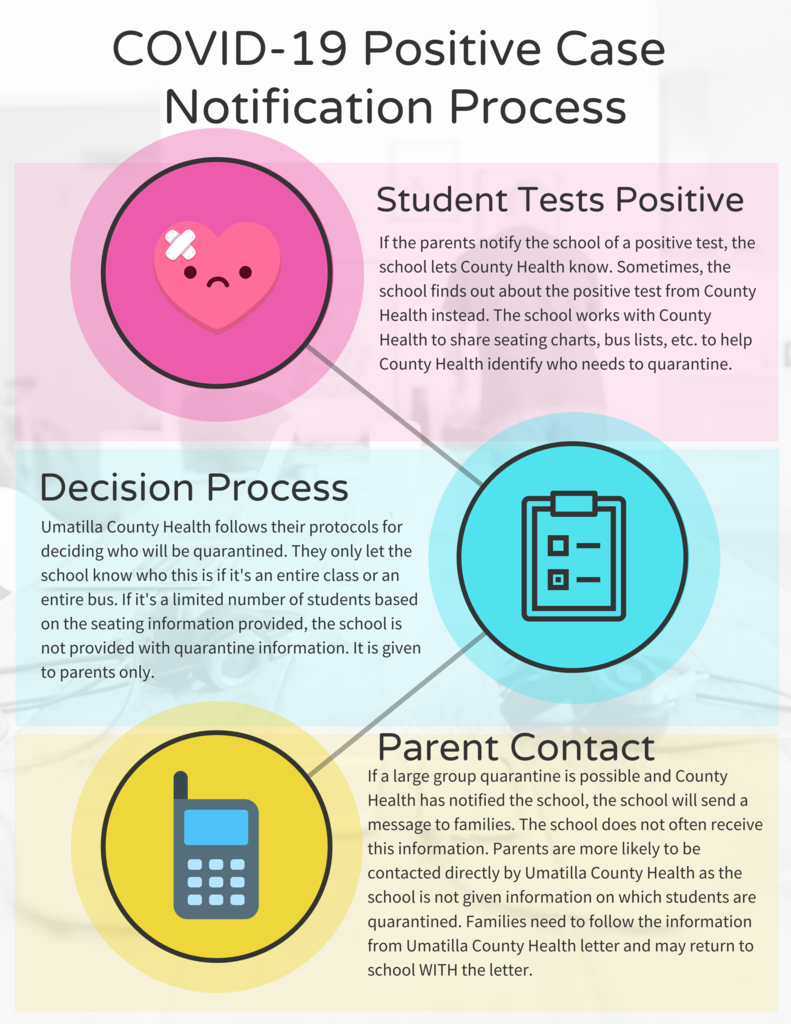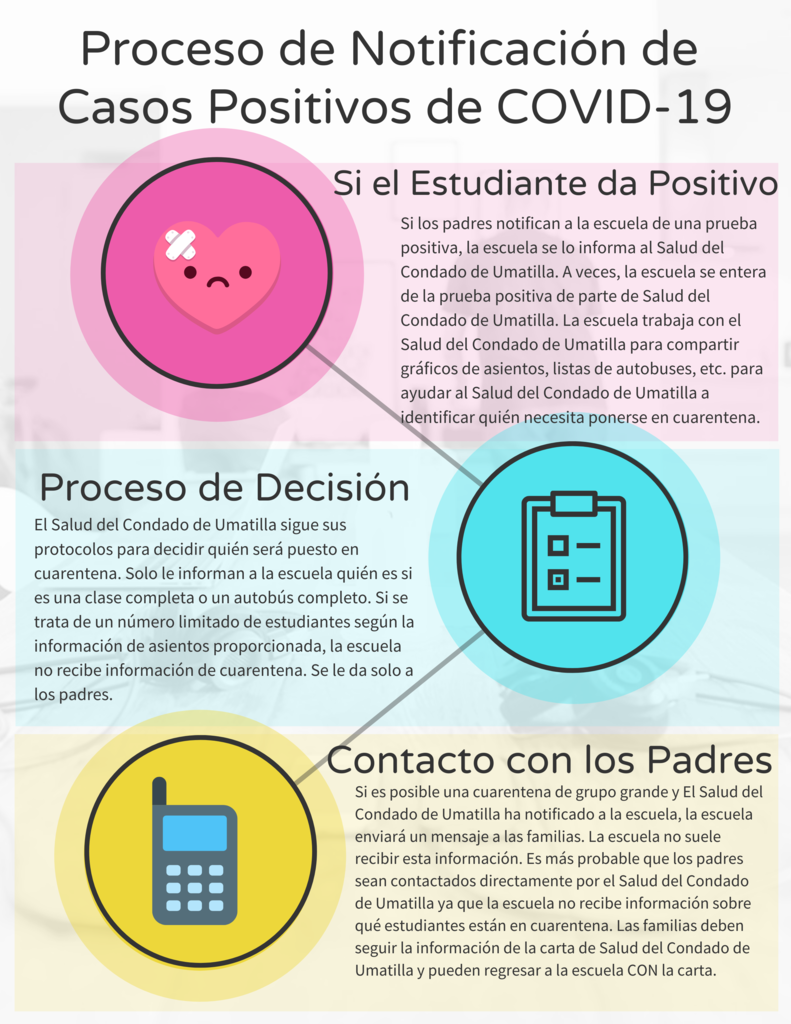 The busses will be running late for elementary school students today. The Road Runner bus broke down in the schoo'ls parking lot. Another bus is in route to take students home. Please call Midco if you have any questions or concerns. 541-567-0551 Los autobuses llegarán tarde para los estudiantes de la escuela primaria hoy. El autobús Road Runner se averió en el estacionamiento de la escuela. Otro autobús está en camino para llevar a los estudiantes a casa. Llame a Midco si tiene alguna pregunta o inquietud. 541-567-0551

​Congratulations, Mrs. Guentert! She's been selected as the new principal of Greenwood Elementary in LaGrande. Mrs. Guentert has commuted from LaGrande for the past 13 years and while we will miss her, we support her desire to be closer to her home and family. We appreciate Mrs. G and all she's done for Umatilla schools and wish her the very best in her new role.​ We are excited to annouce our new leadership teams at McNary Heights Elementary and Clara Brownell Middle School for the 2021-22 school year. Mr. Cotterell will be replacing Mrs. Guentert as principal at Clara Brownell Middle School. Joining him on the team will be Mr. Humphrey as Dean of Students. At McNary Heights Elementary, Mrs. Coyle will transition from Assistant Principal to Principal of MHES. We have hired Mr. Glaze to serve as interim Assistant Principal for MHES in the coming year and we will do a full search for an Assistant Principal for the 2022-23 school year and beyond. Please see the infographics for more information on each leader.​ Thank you, leadership team! We look forward to the work you'll do for Umatilla students!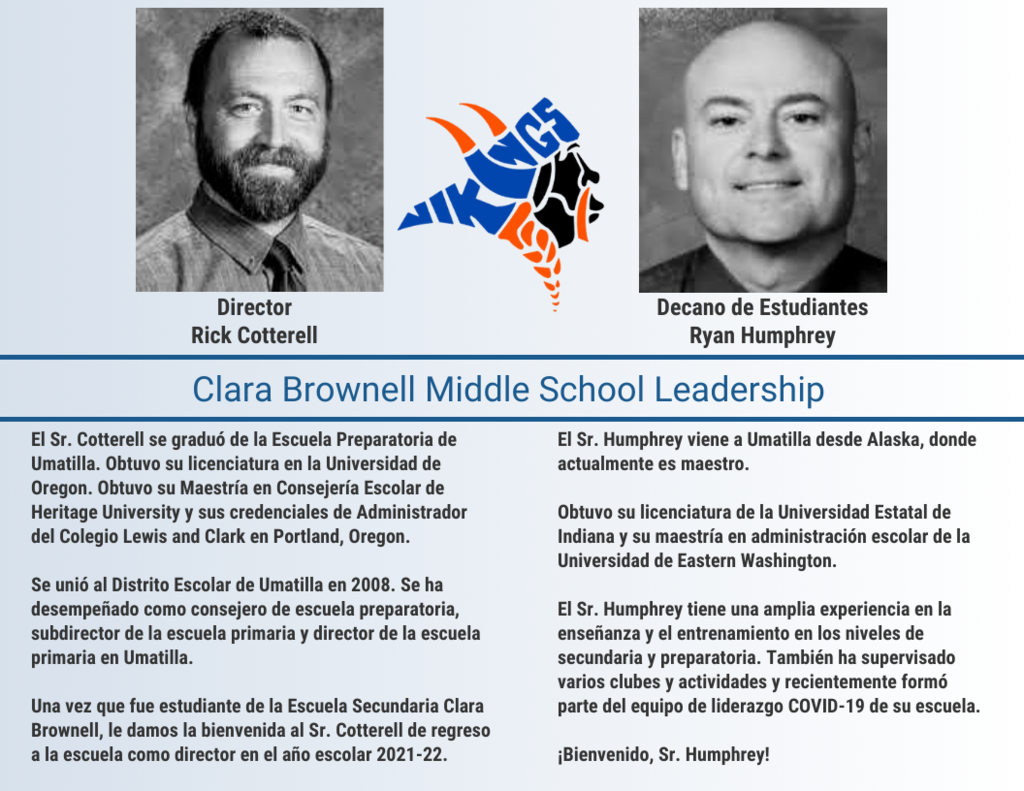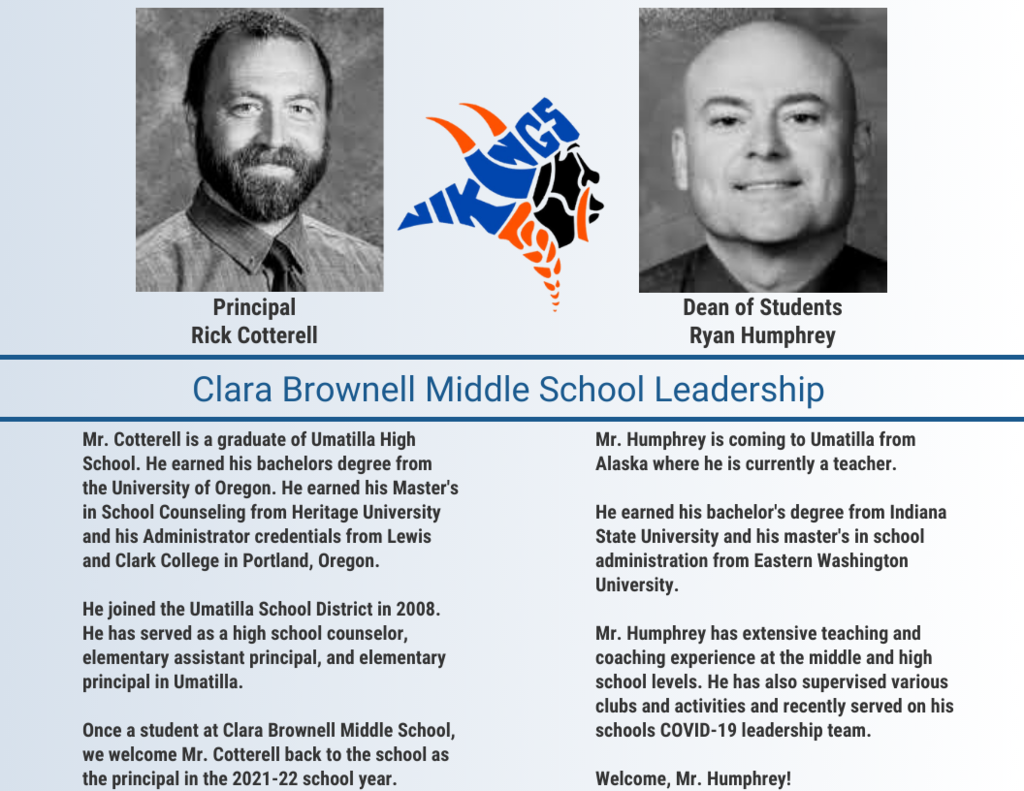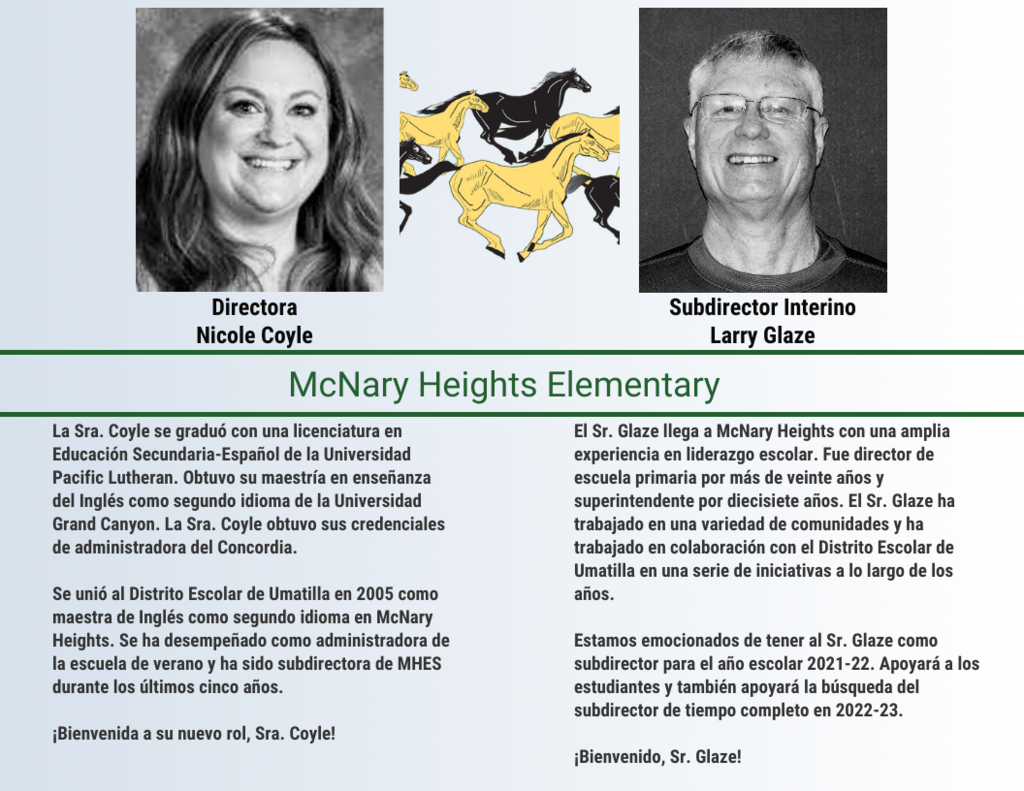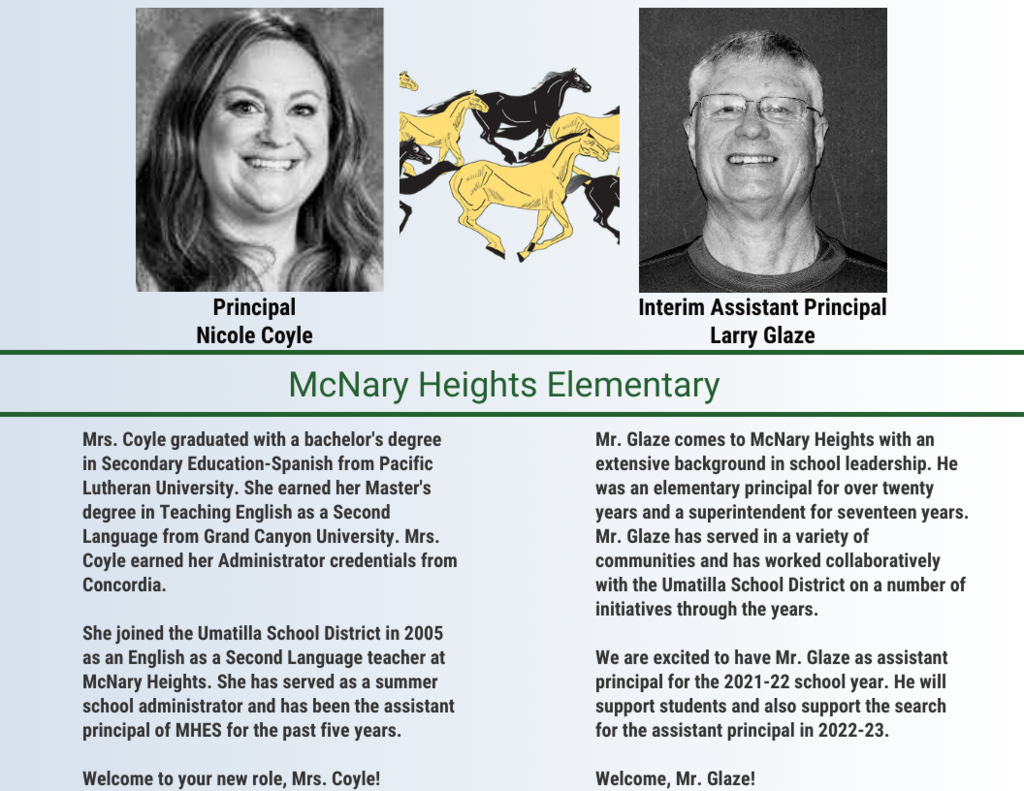 Please join us in thanking our amazing teachers during National Teacher Appreciation Week! We appreciate our USD teaching team. Thank you for ALL you do for Umatilla students!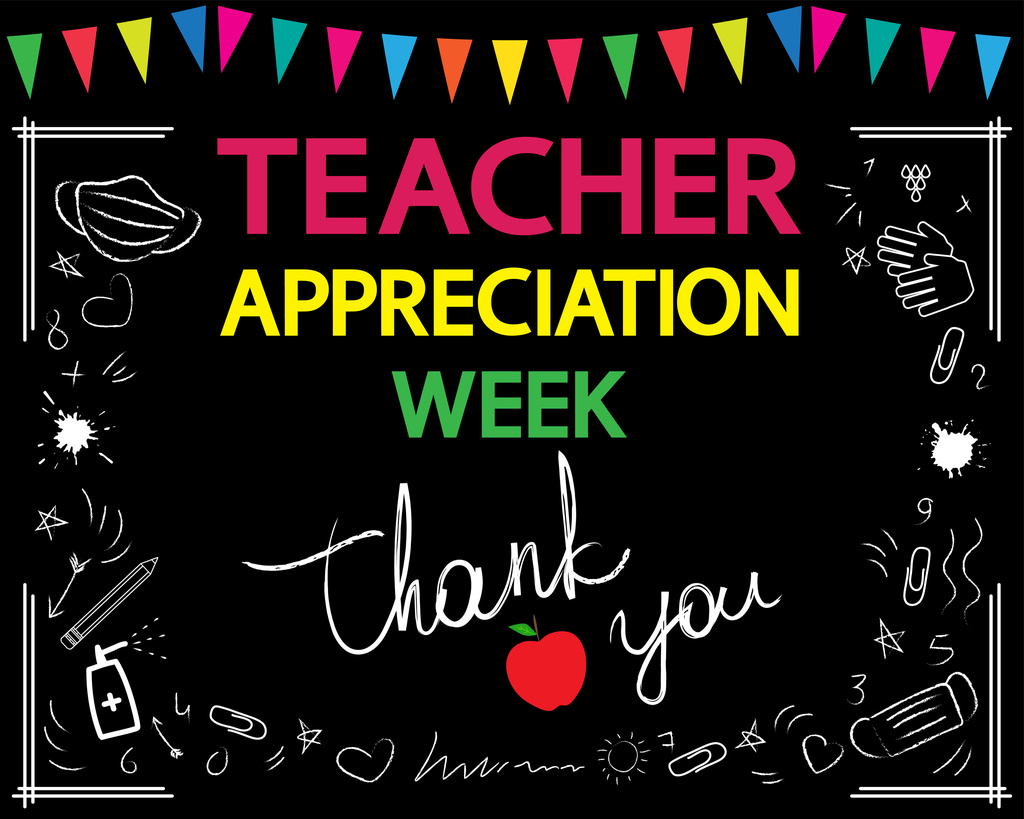 Attention CBMS 7th and 8th graders!! A 3 week basketball season for 7th and 8th graders will be offered before school ends if there are enough interested students. If you are interested, you must have a physical, impact testing (completed with coaches) and insurance. Proof of a physical and insurance must be dropped off at the office with Mrs. Garza by next Thursday. If you have any questions, please contact Scott Bow at 541-922-6569. ¡¡Atención, alumnos de 7 y 8 grado de CBMS !! Se ofrecerá una temporada de baloncesto de 3 semanas para los estudiantes de 7 y 8 grado antes de que termine la escuela si hay suficientes estudiantes interesados. Si está interesado, debe tener un examen físico, pruebas de impacto (completadas con entrenadores) y seguro. La prueba de un examen físico y el seguro deben entregarse en la oficina con la Sra. Garza antes del próximo Jueves. Si tiene alguna pregunta, comuníquese con Scott Bow al 541-922-6569. Insurance form for parents. USE this Link / Formulario de seguro para padres. USE este enlace:
https://docs.google.com/forms/d/e/1FAIpQLScT62fDX-Czj0VjCZjEIgbrDtiORzqJ7fNFmuYm5vEkJgJBtw/viewform?usp=sf_link

How does Umatilla County's increase to High Risk impact our schools? We continue with our current plans, our current safety protocols and our current monitoring. We only need to change status and plans if we have school transmission and outbreaks. Thank you for continuing to monitor your students before sending them to school to help us maintain safe learning environments. We appreciate your partnership!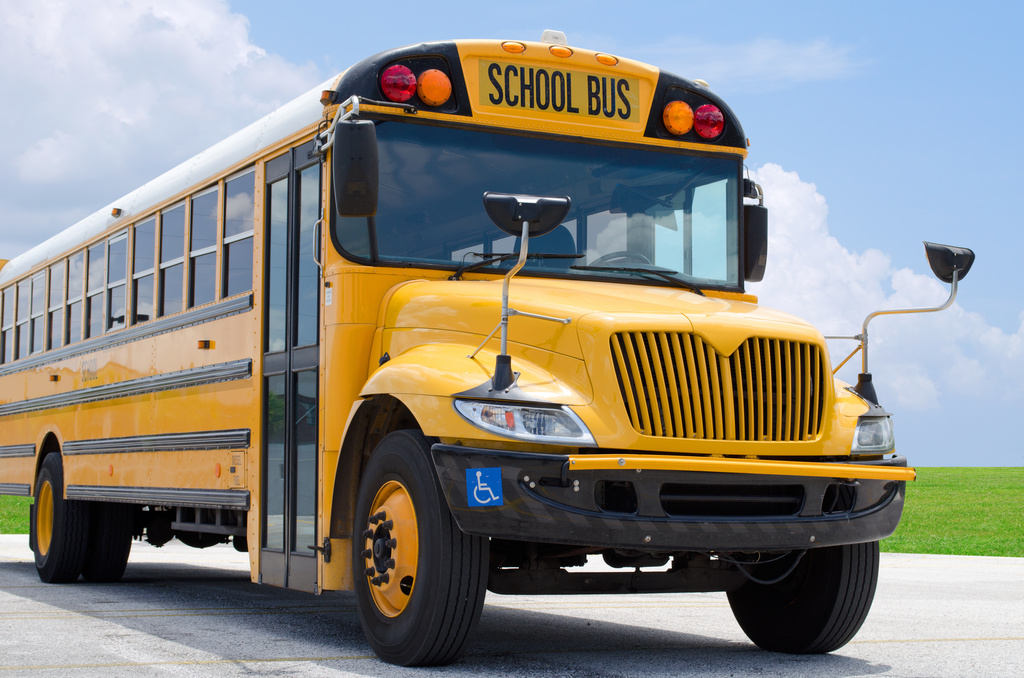 Reminder: COVID-19 vaccine clinic at UHS today from 10-2. Moderna vaccine. Ages 18+. No cost. Thank you, Family Health Associates!

During the week of April 19-23 Umatilla High School will be hosting online student conferences. Please use the links below to contact teachers during their available times. If those times don't work for you, please call or email the teacher or Umatilla High School to set up a time that will work for you. Durante la semana del 19 al 23 de Abril, la Escuela Preparatoria de Umatilla organizará conferencias estudiantiles en línea. Utilice los enlaces a continuación para comunicarse con los maestros durante los horarios disponibles. Si esos horarios no funcionan para usted, por favor llame o envíe un correo electrónico al maestro oa la preparatoria Umatilla para programar un horario que funcione para usted.
https://docs.google.com/spreadsheets/d/1A7LA23V5M7Qu-PtM8JAOtZ6vWToEXzpBGnFCJwcaK3M/edit#gid=0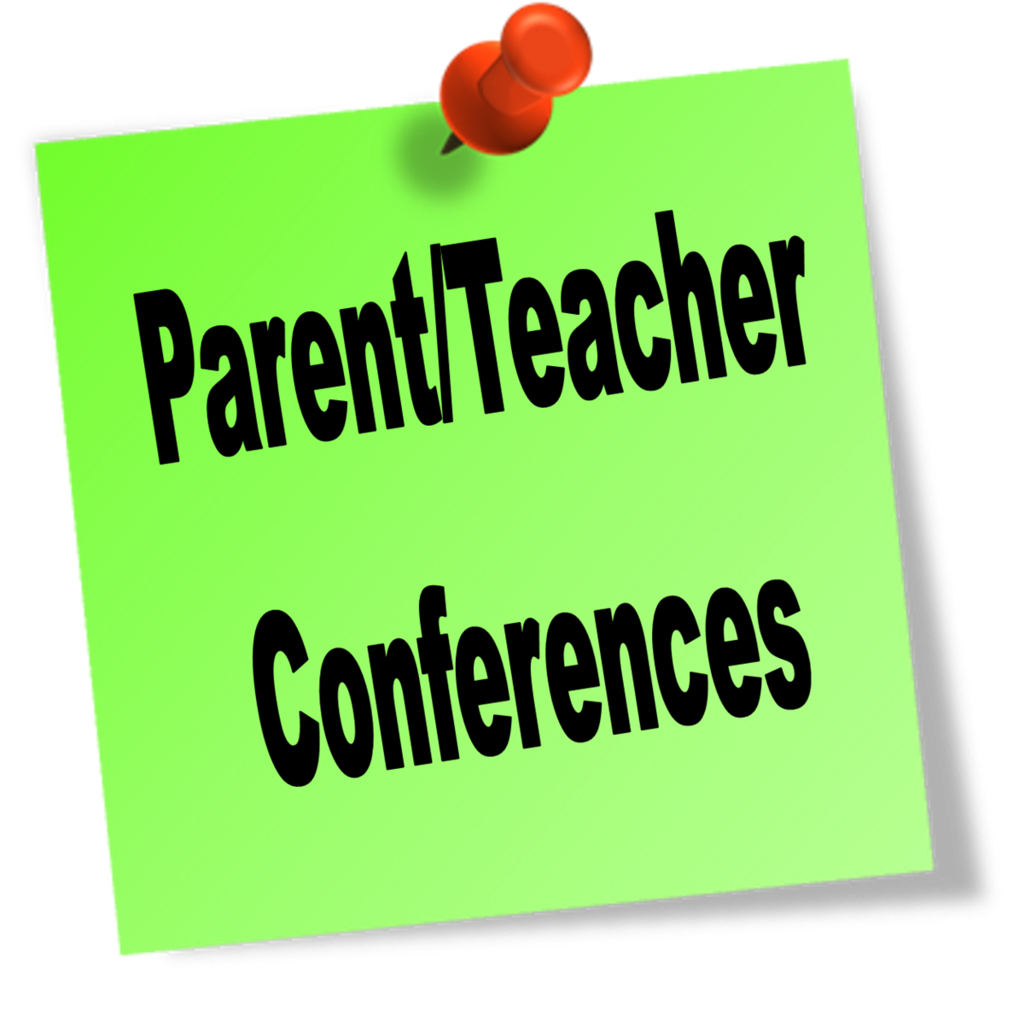 Testing and vaccines available Saturday at UHS. See the flyer for testing information. Vaccines (now switched to Moderna) will be available from 10 am-2 pm. Thank you, Family Health Associates! Pruebas y vacunas disponibles el Sábado en UHS. Consulte el folleto para obtener información sobre las pruebas. Las vacunas (ahora cambiadas a Moderna) estarán disponibles de 10 am a 2 pm. ¡Gracias, Family Health Associates!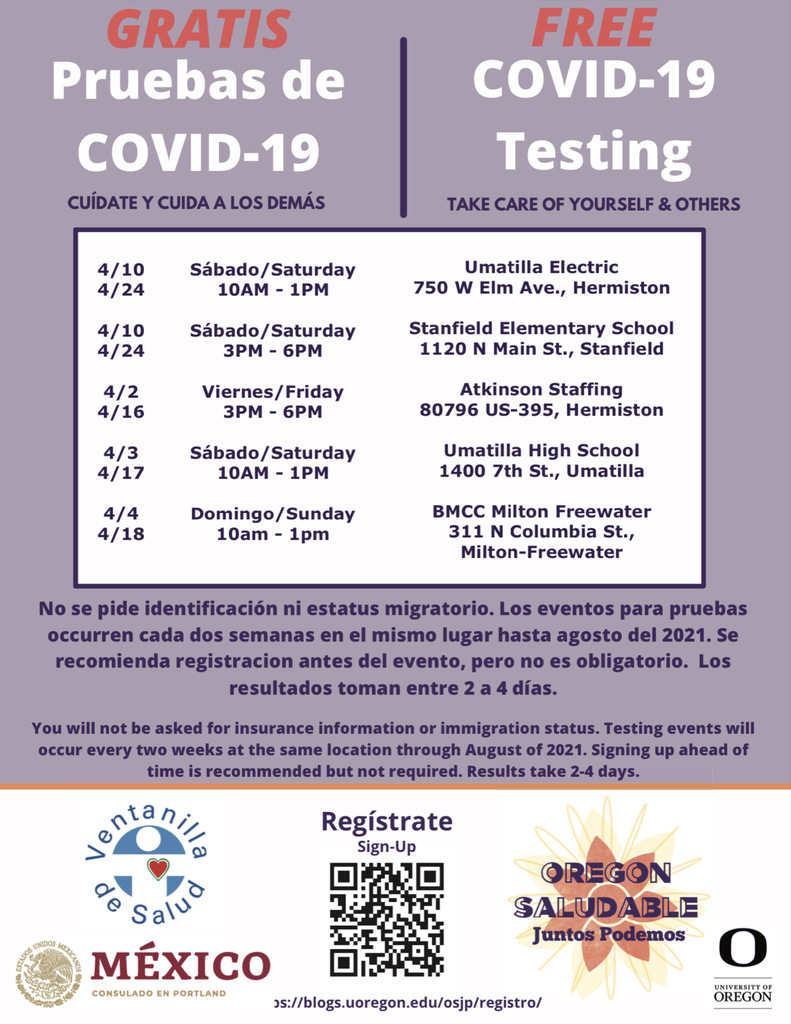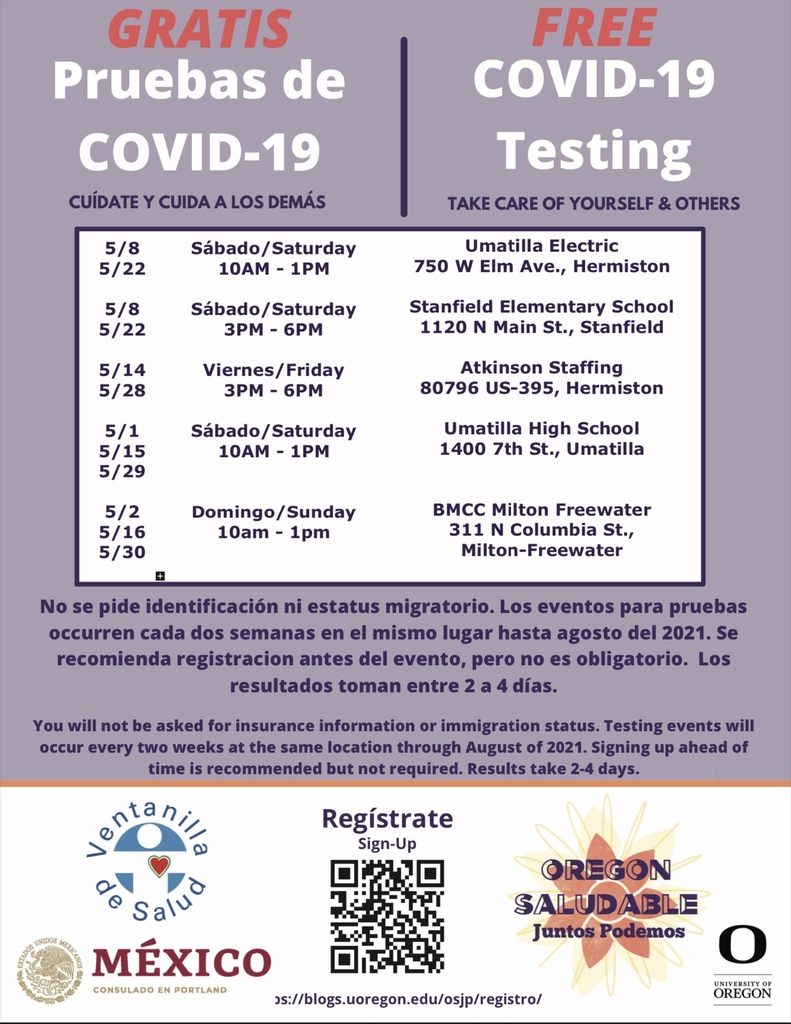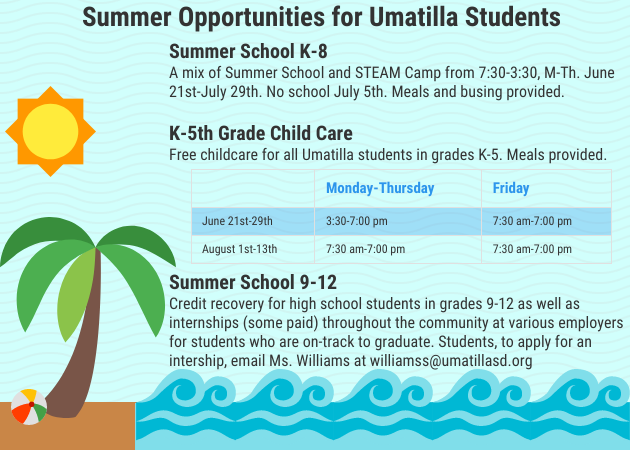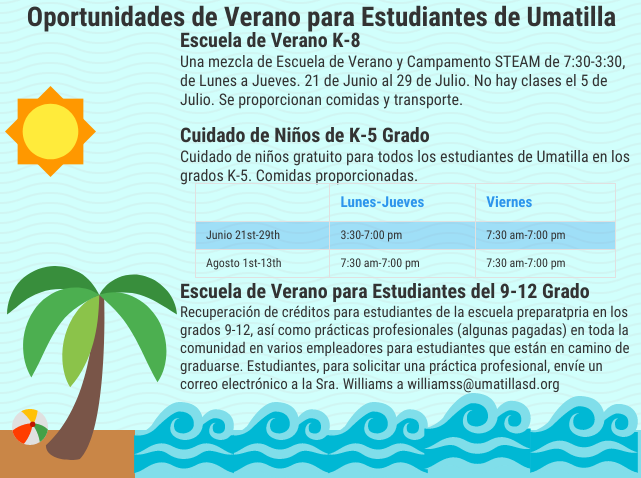 The Migrant education program in collaboration with other local agencies is having a resource fair! ¡El programa de educación migrante en colaboración con otras agencias locales está teniendo una feria de recursos!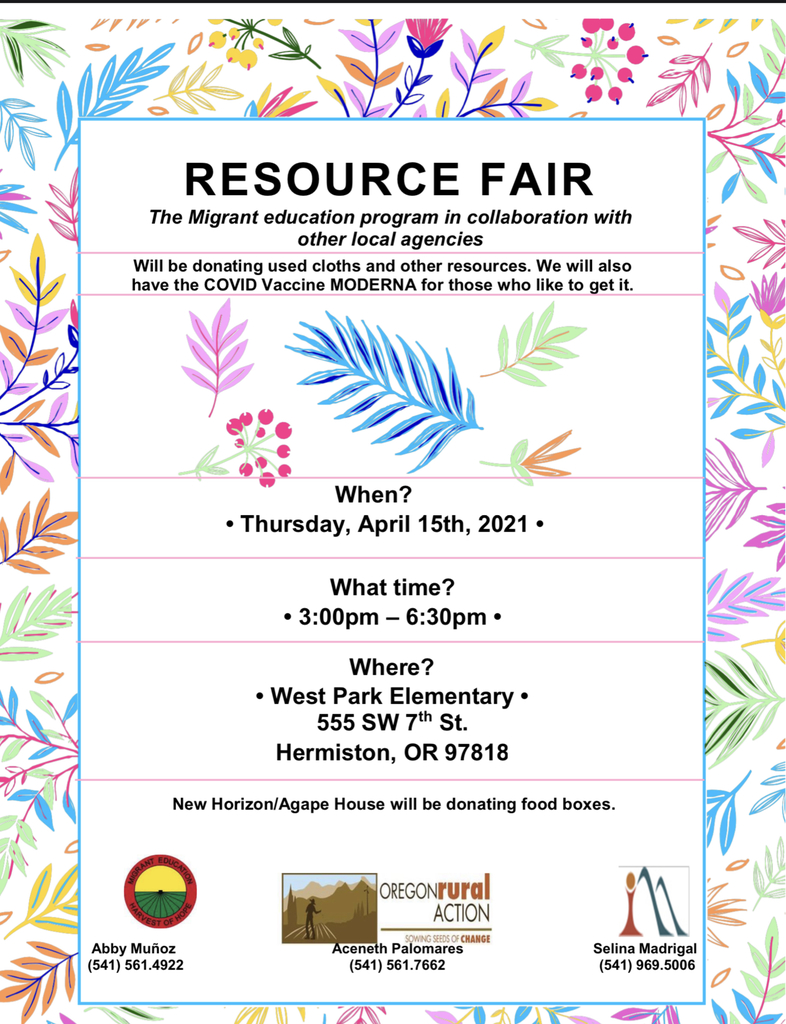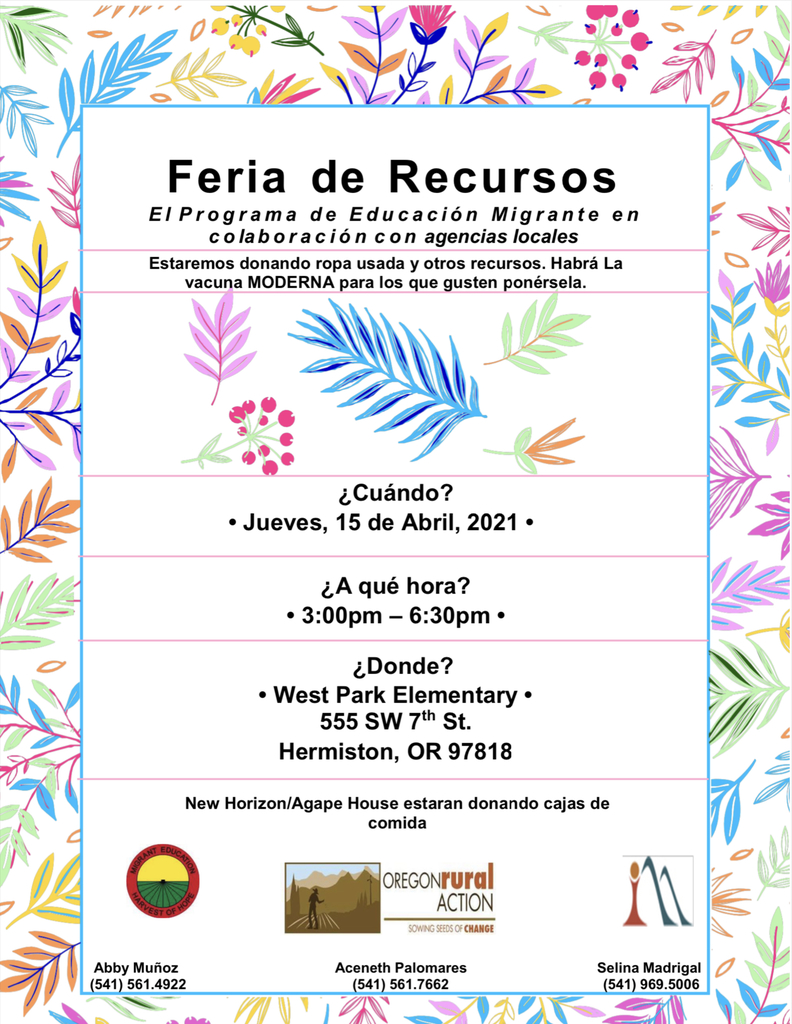 Last day of meal deliveries! ¡Último día de entrega de comidas!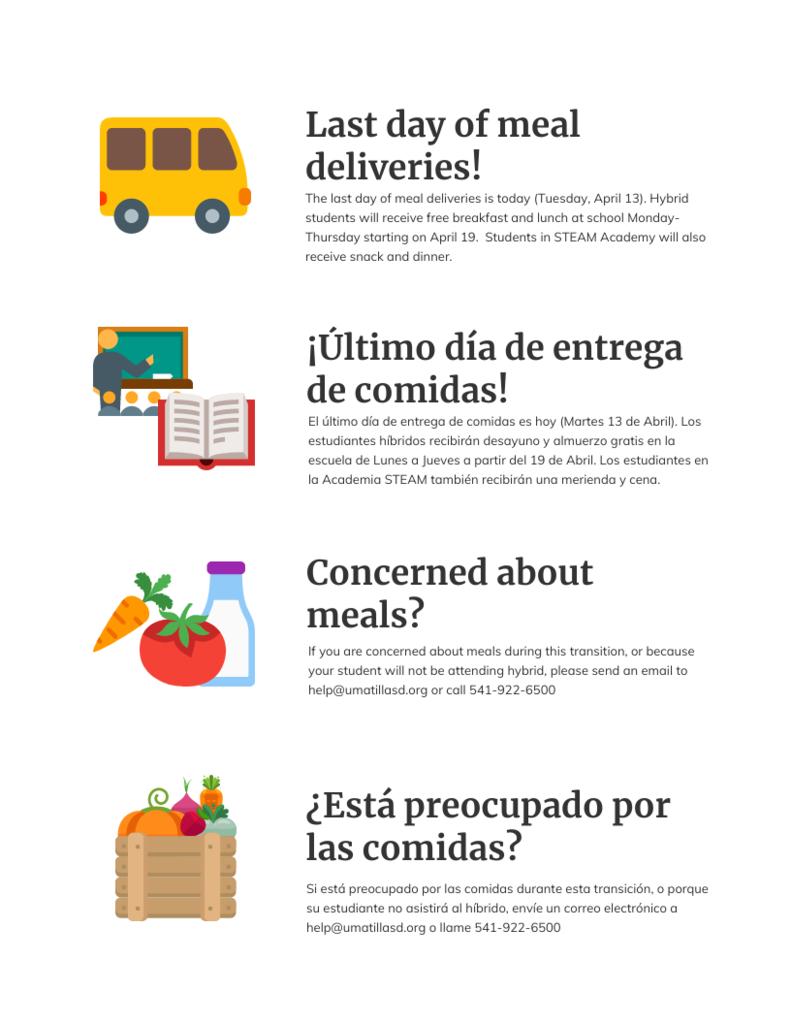 Thank you, Mr. Evin, and UHS student artists for sharing student art with us. We are proud of the work you did during distance learning. Fabulous work, Vikings! Gracias, Sr. Evin, y los estudiantes artistas de UHS por compartir el arte de los estudiantes con nosotros. Estamos orgullosos del trabajo que realizó durante la educación a distancia. ¡Fabuloso trabajo, Vikingos!
https://drive.google.com/drive/folders/1f5XMXjC90NHzgeCoe6pL2hC8TItWA9uJ?usp=sharing

Congratulations, Krish! He is the winner of the bike drawing. Entrances to the drawing were earned by passing classes with a 60% or higher by March 18th. Thank you, Casiday Battery Company for donating the bicycle! ¡Felicitaciones, Krish! Es el ganador del rifa de bicicleta. Las entradas a la rifa se obtuvieron al aprobar las clases con un 60% o más antes del 18 de Marzo. ¡Gracias, Casiday Battery Company por donar la bicicleta!